Welcome to the first official Wiki of the best Gundam on ROBLOX franchise!
200 pages on this wiki since December 20, 2014
Gundam on ROBLOX
Other NikeTube Content
Latest News
NIKETUBE STUDIOS TO FOLD AFTER 2016
On March 11, 2016 the studio's Founder, filmmaker, and CEO Nick De Leon has announced that after seven years of NikeTube Studios' presence on YouTube will come to an end after 2016. "It's been a long, long time since I last updated anything" said De Leon in a dull tone, "After that whole long run, I've finally decided that by the end of the year I've deciding basically, I don't know the right terminology to say but, basically retire from filmmaking and finish up NikeTube Studios".
Back in January 4, 2016, NikeTube Studios posted on its Facebook page that it was intended to fold at the end of the year, most due to the unintended hiatus to the Gundam on ROBLOX series after 2012. In July 13, 2013 NikeTube Studios went on a year long hiatus that lasted until June 25, 2014. After the hiatus NikeTube had only released two of its six episodes of NikeTube Shorts and a sudden hiatus of the revived Nick De Leon Show after October 2015. Since then NikeTube had only released Gunpla model kit reviews.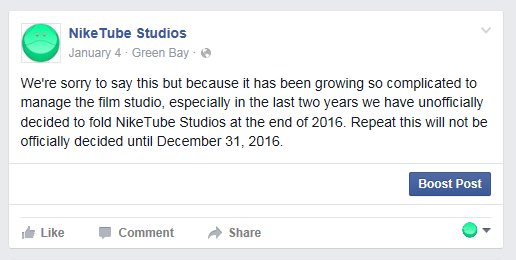 De Leon's expectations before the end of 2016 include releases of Shammy: One Gay Sucky Family and Two Weeks of Christmas. In the process of NikeTube Studios' folding, De Leon is going to move on to "growing up as an adult, and moving on" and working on his new Christian ministry, he does not plan to delete the NikeTube YouTube channel nor does he plan to delete the largely abandoned Gundam on ROBLOX Wiki.
Featured Article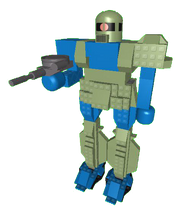 bitch Languages: English, 日本人
Community content is available under
CC-BY-SA
unless otherwise noted.